October 30, 2023
Comprehensive Review of CRAZYACE 15000 Vape: Dual Tank, Dual Mesh
In the ever-evolving world of vaping, the CRAZYACE B15000 emerges as a titan among disposable vape devices. With its unique dual tank and dual mesh design, the B15000 aims to redefine the vaping experience.
In this comprehensive review, we'll delve into the device's features, performance, user feedback, and overall vaping journey to provide you with an in-depth analysis.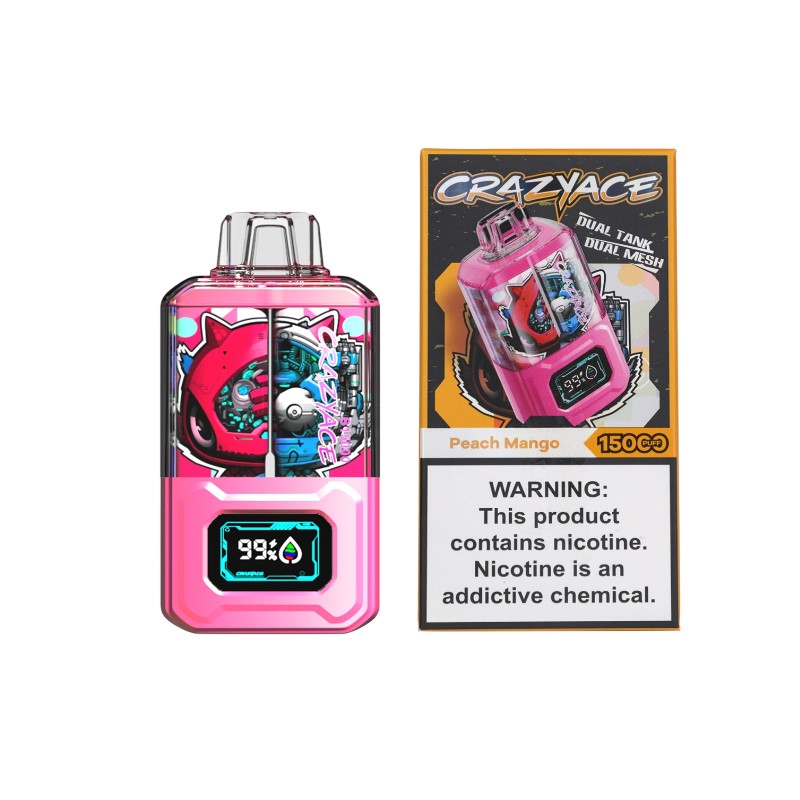 Design and Functionality
The CRAZYACE B15000 boasts an innovative dual tank and dual mesh design that seamlessly merges form and function. Every aspect of this device appears to be carefully crafted to elevate the vaping experience, promoting effortless interaction between user and device.
E-Liquid Capacity and Flavor Variety
Breaking away from conventions, the B15000 offers an impressive 20mL of e-liquid, divided into two 10mL tanks. This generous capacity is complemented by a selection of 15 delectable flavors, spanning from the tropical allure of 'Peach Mango' to the sweet, bubbly notes of 'Watermelon Bubble Gum'. The wide range of flavors reflects a thoughtful selection designed to satisfy diverse palates.
Nicotine Salt
The device comes pre-filled with 5% nicotine salt e-liquid. Nicotine salts are known for delivering a smoother throat hit and more immediate nicotine satisfaction, making the B15000 an excellent choice for former smokers or vapers seeking a more gratifying nicotine experience.
Battery and Boost Mode
Under the hood, a robust 900mAh battery ensures both extended use and introduces a 'Boost Mode.' This feature exemplifies CRAZYACE's commitment to providing a refined and potent vaping experience. Boost Mode enhances vapor production and flavor delivery, elevating the overall performance.
Smart Display
A groundbreaking feature in the B15000 square disposable pods are the Smart Display. This interface offers real-time updates on e-liquid levels and battery status, adding an element of intelligence and convenience to device management and maintenance.