August 22, 2019
Huawei Nova 5i Pro – A Comprehensive Powerful Phone Centered on Photography
In 2018, Huawei shot to fame by launching the first 7nm Kirin 980 chip and bringing the dual NPU neural network processor in the global mobile phone industry. Nowadays, with the gradual maturity of the 7nm SoC chip, Huawei has begun to apply the top technology to its high-end chips.
Less than a year later, Huawei Nova 5i Pro turned out with Huawei's second SoC chip – Kirin 810. It not only inherited the advanced technology of the 7nm manufacturing process, but more surprisingly, it was embedded with Huawei's self-developed Da Vinci NPU architecture, which greatly improved the AI computing power of the chip.
The DaVinci architecture adopts a stereo Rubik's Cube form, which can cooperate with the core processor such as CPU central processor, GPU graphics processor, NPU neural network processor, ISP image signal processor, has higher energy efficiency ratio, stronger AI computing power and superior image accuracy. Applied to the field of image processing, it can achieve a more powerful night scene algorithm, allowing users to take brighter and more analytical photos.
It is not so much that Nova 5i Pro is equipped with 48MP AI rear quad camera to cater to the "taste" of consumers, but rather to fully utilize the powerful NPU computing power of the Kirin 810 chip to achieve comprehensive coverage of cross-scene photography. As a result, the Nova 5i Pro is able to achieve what most young people expect – only a mobile phone needed to travel and take photos whenever and wherever they want.
Huawei Nova 5i Pro is equipped with a 6.26-inch high color gamut pole full screen and adopts 32MP front dot camera, making the screen ratio up to 83.58%. 3D curved glass covered on the back, coupled with 48MP HD camera + 8MP super wide-angle camera + 2MP macro camera + 2MP depth camera in matrix design. It offers three colors: aurora, emerald green, and night black. Among them, the aurora color is generated by superimposing a layer of glare film on the ink coating full of gradient colors. After repeated rounds of subtle carving, the transparent film can create a dreamy light lines change in the sun. Especially in the sun, turning the phone can show brilliant brilliance.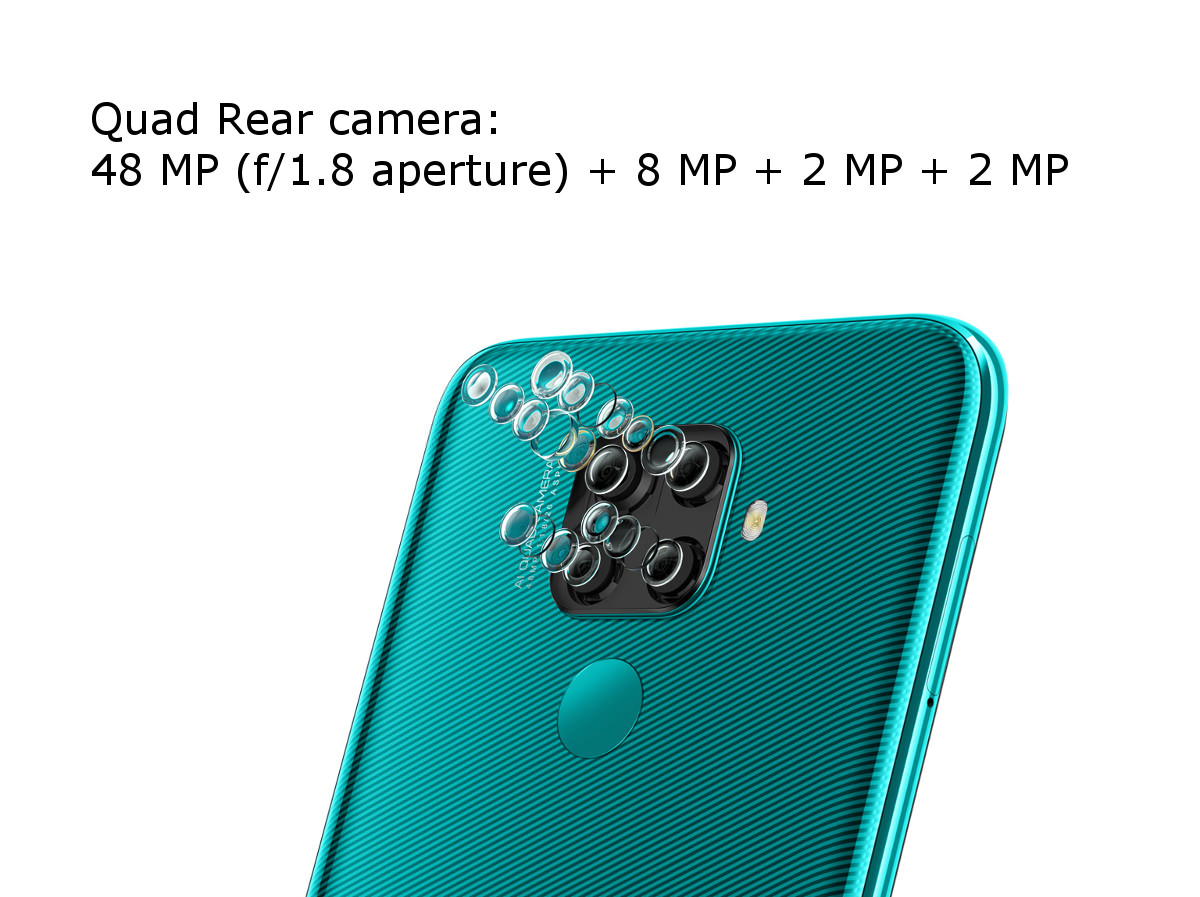 Huawei Nova 5i Pro hides the front camera under the LCD screen, overcoming multiple difficulties such as reliability, light transmittance and shrinking the front camera. It not only ensures the integrity of the LCD screen, but also makes the camera more visually stealthy, giving the whole screen a totally natural feeling. In addition, Huawei Nova 5i Pro applies microslit receiver and other technologies to subtly increase the width of the receiver and reduce the height, result in a slim microslit receiver to make the frame of the phone narrower while while keeping the volume and effect of the receiver constant.
Equipped with 8GB RAM, it ensures smooth multi-tasking switching, and quick game starting. With a large capacity of 256GB, you are free to download a variety of interesting resources without worrying about insufficient storage space.
Nova 5i Pro has a built-in 4000mAh high capacity battery, and uses 20W Huawei fast charging solution, the charging efficiency is equivalent to Super Charge 22.5W. It can be charged to 50% in 30 minutes and can be fully charged in 90 minutes.
The highly acclaimed Hi Vision voice assistant has undergone a new upgrade, it can be used according to the user's habits, remember the user's common location, voice call the car, you just need to issue instructions. In addition, EMUI 9.1.1 also has a powerful recognition function, covering a range of three meals a day, basic necessities, flowers and trees, and providing information assistance based on the identification content. Through Hi Vision, we can get a more convenient, healthy and interesting life experience.
The Nova series has always been adhering to the brand attitude of young, entertaining and trendy. Huawei Nova 5i Pro sets a strong configuration combination of front 32MP super portrait night scene camera + rear 48MP multi-scene AI quad camera + Kirin 810 chip, bringing the majority of users another comprehensive experience led by image and performance, and the price on gearvita.com is even more amazing.
Related products:
mi max 3
lenovo z6 lite