July 27, 2023
Experience the Enchantment of VOOPOO Drag E60 Forest Era Edition
If you're a vaping enthusiast seeking a device that perfectly balances aesthetics and performance, look no further than the VOOPOO Drag E60 Forest Era Edition. Let this exceptional vaping device transport you to a world of vaping bliss, where every draw is an enchanting adventure. Come and explore with me.
A Mesmerizing Blend of Zinc Alloy and Leather
This extraordinary vaping kit takes inspiration from the beauty of nature, blending various patterns and leather materials to create a truly captivating design. The combination of zinc alloy metal and leather not only ensures a robust build but also infuses a touch of warmth and liveliness into the overall design. With five stunning color options, including Streamers Green, Rainbow Silver, Morden Red, Obsidian Black, and Gray Metal, the Drag E60 Forest Era Edition caters to every vaper's personal style.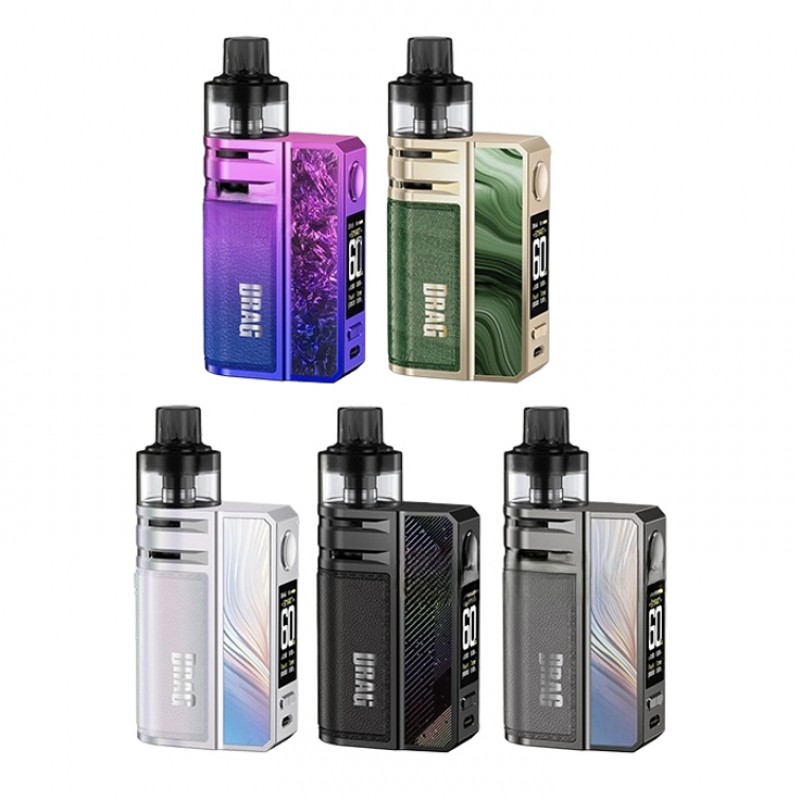 Powerful Input and Output
Equipped with a robust 2550mAh battery, the VOOPOO Drag E60 Forest Era Edition ensures long-lasting vaping sessions without the need for frequent recharging. Whether you're a casual vaper or a more intense cloud chaser, the device's power range of 5-60W allows you to adjust the wattage to your desired level. Experience smooth and flavorful draws at lower wattages or indulge in dense vapor production at higher wattages – the choice is yours.
REfillable and REliable Pod System
The VOOPOO Drag E60 Forest Era Edition is compatible with PnP Pod II and a selection of coils to cater to different vaping styles. A generous 5ml e-liquid capacity reduces the need for frequent refills during extended vaping sessions. The top filling system adds convenience to the mix, allowing you to refill your favorite e-liquid quickly and mess-free. The wide resistance range of 0.1-3.0 ohm ensures that you can use various coil options, depending on your preferred vaping intensity.
Personalized Vaping Mode
On the one hand, this vape pod kit is equipped with three working modes: intelligent SMART Mode has strong automatic detection and automatic adjustment performance; the RBA Mode is characterized by manual adjustment and full control; and the ECO Mode means long-lasting, it can further prolong your vaping fun.

On the other hand, no matter which mode you are in, you can customize your vaping experience by setting the adjustable airflow system. The perfect balance of flavor and steam production is a result of personalization, so this device gives you plenty of room to adjust. Enjoy the joy of freedom to the fullest.
Conclusion
VOOPOO Drag E60 Forest Era Edition is a true masterpiece that brings together aesthetics, performance, and functionality in one exceptional package. Immerse yourself in the allure of nature as you embrace the magic of this extraordinary vaping device. Fortunately, there are also more powerful natural magic vapes at online stores waiting for you, please click here: https://vapesourcing.com/voopoo-drag-h80s-kit-forest-era-edition.html.