June 11, 2020
Voopoo Drag Mini Refresh Edition – Pod Tank Makes Mini Mightier
Have you ever imagined that a cartridge can serve as both a pod and a tank? It's impossible in theory, right? However, Voopoo makes what you want come true. The newly released Drag Mini Refresh Edition Kit will lead you into a new vaping field.
Voopoo Drag Mini Refresh Edition Kit is a new version of Voopoo Drag Mini. Compared to the latter, Drag Mini Refresh Edition uses the newly created PnP Pod Tank. Following the original Drag Mini design, the Drag Mini Refresh Edition adopts ergonomically curved surfaces and rounded corners, combined with resin panels to provide an excellent aesthetic appearance. Rapidly deploying this power from its built-in 4400mAh battery, the Drag Mini Refresh Edition's battery capacity can be described as nothing less than outstanding. Drag Mini Refresh Edition can fire up to 117W maximum output. The mod is equipped with a crystal OLED display to show the parameters of the device, making operation easier. The real focus of this device should be GENE FIT chipset, Drag Mini Refresh Edition adopts the GENE chip to ensure high performance, long endurance and best protection. The innovative FIT mode can bring better using experience with safety design and long battery life, as well as protect tanks from burnout.
Voopoo PnP Pod Tank is a new type of Tank, which can be flexibly switched between POD and TANK, with a capacity of 4.5ml, and double intake hole design. It matches perhaps the most abundant and excellent PnP coils; Magnetic absorption makes coil change and oil filling never so simple; The adjustable air 510 base matches almost all of your devices. Drag Mini Refresh Edition equipped with two PnP coils of 0.15ohm and 0.2ohm. They will let you feel the PnP coils of a big cloud with incredible flavors. Drag Mini Refresh Edition is compatible with all PnP coils, just pull and push, you can enjoy different vaping experience, fast and affordable.
What a amazing setup! Really fall in love with it at the first sight. Want more detailed information? Can't wait to have a try? Vapesourcing will offer all you want.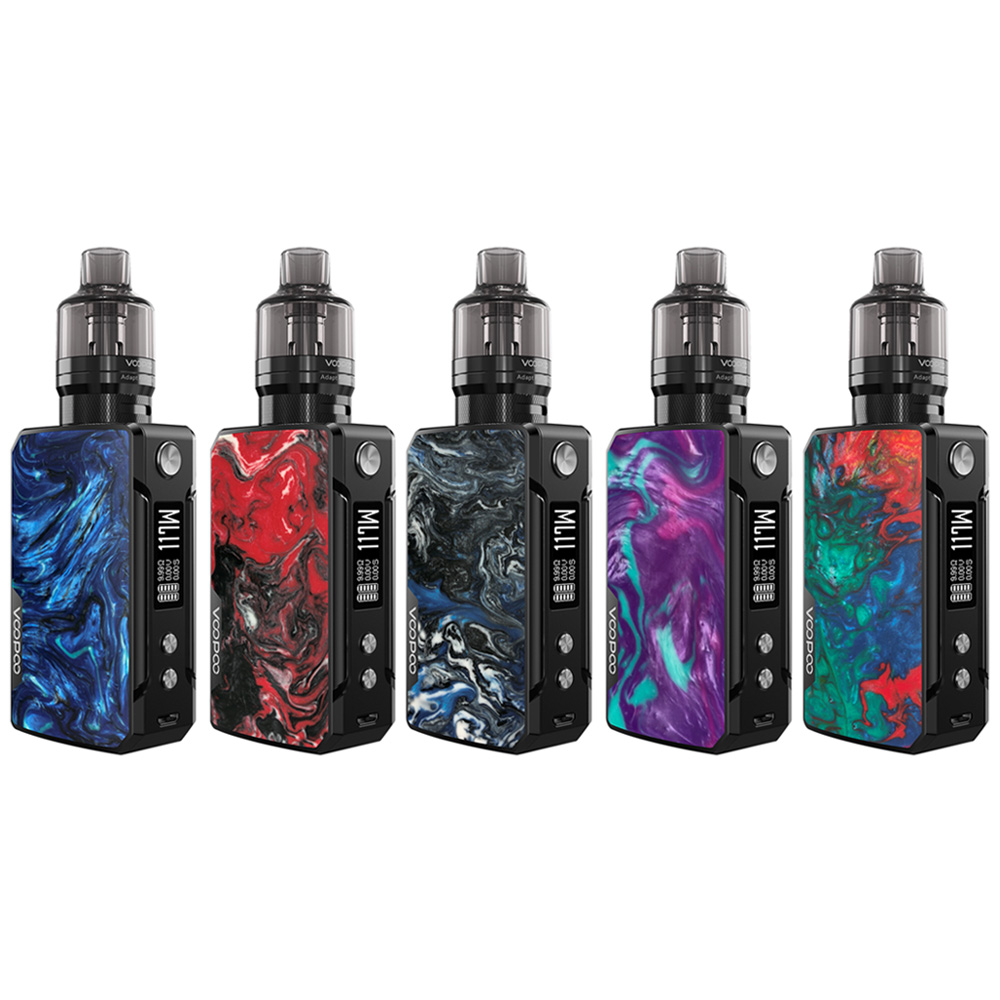 Parameters
Voopoo Drag Mini Refresh Edition
Size: 48.525.5127.6mm (Standard)
Material: Zinc Alloy+ Resin (Black); Tungsten Alloy+Resin (Platinum)
Battery: 4400mAh Built-in Battery
Chipset: GENE.FIT
Power Range: 5-117W
Resistance Range: 0.05-5.0Ω
Output Voltage: 0-7.5V
Colors: B-Coral, B-Phthalo, B-Prussian Blue, B-Purple, B-Rhodonite
Voopoo PnP Pod Tank
Capacity: 4.5ml / 2ml (TPD)
Standard Coils: PnP-VM6 0.15ohm / PnP-VM5 0.2ohm
Compatible Coils: All of PnP coils
Material of pod: PCTG
Material: Stainless Steel
Thread: 510
Colors: Black, Stainless Steel
You may also want to try
voopoo drag 2 refresh edition vape
smok scar 18 kit price