June 3, 2020
Smok Novo 2 Pod Cartridge – A Daily Necessity for Pod System Kit Lovers
As one of the hot pod devices on the market, Smok Novo 2 is well-known because of its unique pod cartridge to some extent.
The Smok Novo 2 Pod feature a curve that fits your lips perfectly. The mouthpiece made of the smooth and black plastic features the flat and wide shape that similar to the SMOK Nord. The SMOK Novo 2 pod cartridge is transparent. You can easily view the e-juice level without removing the pod. The filling method of the SMOK Novo 2 is the same as the SMOK Nord. Simply remove the pod from the device and fill the pod through the side port.
The Smok Novo 2 Pod features the U-Shaped airflow. The airflow hole on each side of the Novo 2 Pod draws air in through the sides of the device, through the buttonhole of the pod and the coil to the mouthpiece.
The Smok Novo 2 comes with two pods in the box – a 1.4ohm dual coil pod and a 1.0ohm mesh coil pod. Those are non-removable coil pods so you cannot replace the coil. If the coil has expired, you will need to replace it with a new pod cartridge. The 1.4ohm pod delivers a restricted MTL draw for the notable flavor and throat hit while the 1.0ohm pod is more of a loose MTL vaping for much higher vapor production. We recommend you to use the 1.4ohm pod with nic salt and use the 1.0ohm pod with regular e-juice. Both of the pods will work perfectly with nicotine salt providing a more satisfying throat hit.

If you love Smok Novo 2, then love Novo 2 pod cartridge. As an essential part of a pod system kit, the consumable pod cartridge will be your daily necessities. The pod cartridges are available in most of vape stores now, it's your turn to order it.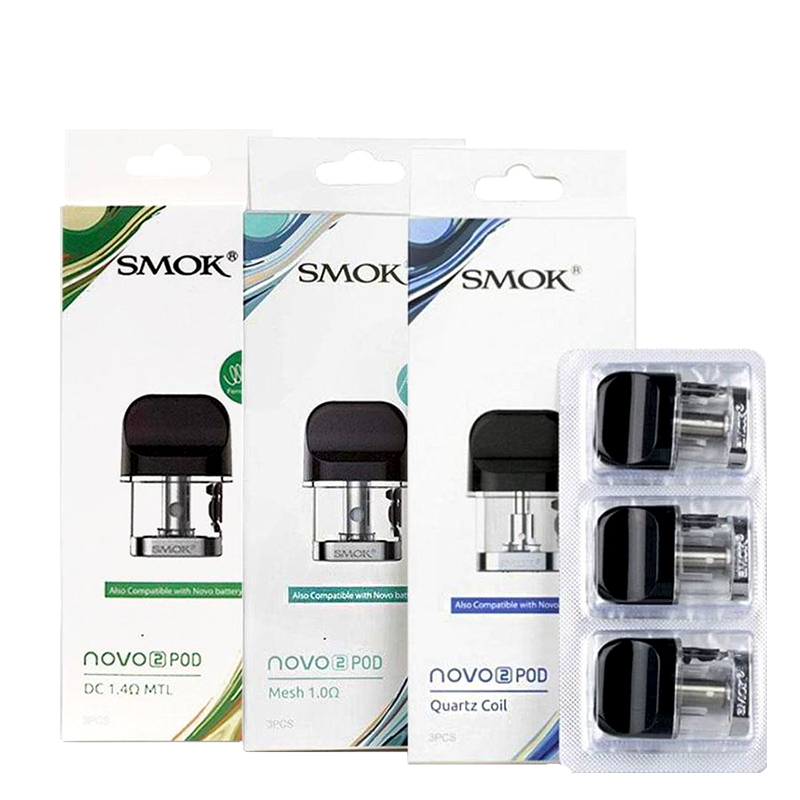 Parameters
Juice Capacity: 2ml
Coil: Mesh 1.0ohm and DC MTL 1.4ohm
Quantity: 3pcs/pack
Fit for: Smok Novo 2 Kit
You may also want to view
smok novo 2 kit vape
vape house