April 26, 2020
Smok RPM Lite Pod Mod Kit – Lightweight And Simplified
Just as its name, the Smok RPM Lite Kit is a lite version of the RPM40, which is smaller at only 75mm high and lighter at only 50 grams. It adopts a more simplified and concise design with single color side panel, and no multiple color collocation.
The RPM Lite is powered by a built-in 1250mAh battery, and can be charged via the micro USB port with a 1.2A charging rate. It offers the same power range as RPM40, from 1W to 40W, which guarantees cloudy vapor, and you can press up/down button to adjust the power you preferred. On the control panel of the RPM Lite, you will see an identical 0.96 inch TFT colorful screen to other Smok vape devices, presenting detailed vaping data such as wattage, resistance, voltage, screen color, puff number and battery level. There is a large button on the top of the screen, and like box mods, you can turn the device on or off by clicking the button 5 times.
In addition, Smok RPM Lite continues the innovative IQ-R chipset with multiple protections to accommodate the popular RPM coil series. The Smok RPM Lite pod has a capacity of 3.2ml with convenience side refill design, you can easy to inject your favorite e-juice without leaking by removing the silicone plugs. On the top of the pod is a large airflow slot, providing you with ample amount of airflow. It comes with two RPM coils: RPM mesh 0.4ohm coil and RPM DC 0.8ohm coil, both are made for pure taste. Through the bottom slot, the coil can be easily inserted into the pod. The mesh coil has large e juice contact area and will heat the juice fastly and evenly for big clouds, while the DC 0.8ohm MTL coil has dual coils with larger heating area and faster heating speed, and its 2.0mm hole offers excellent wicking capability to bring superb flavor. There are also numerous optional coils for the Smok RPM Lite, including an RBA coil for more experienced vapers.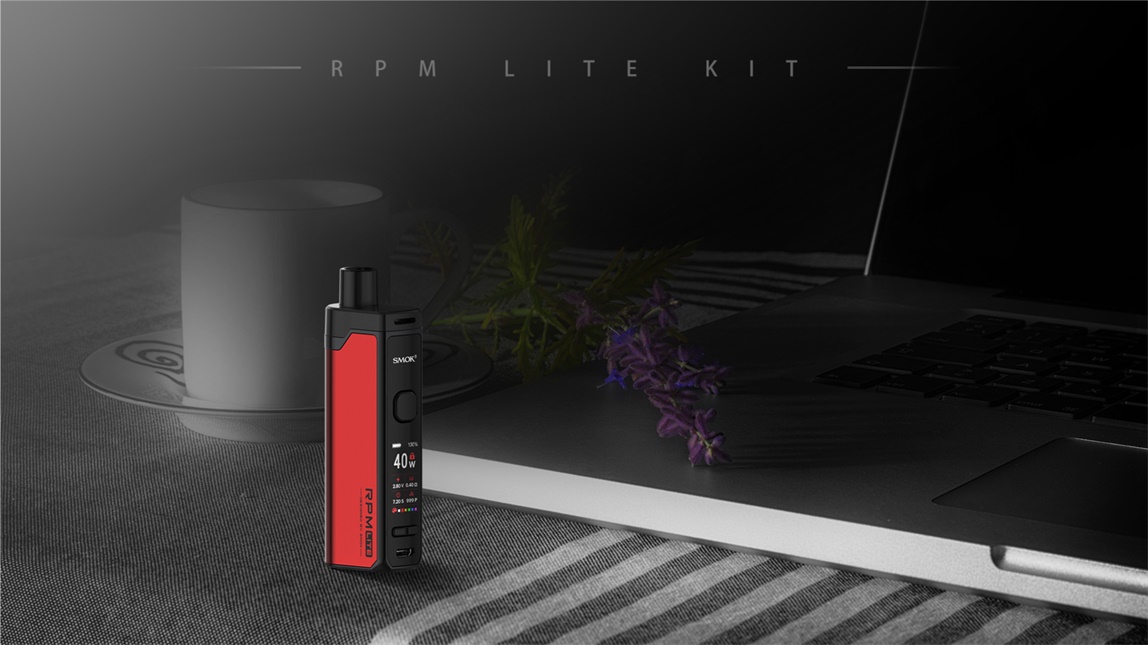 Parameters:
Size: 21 × 32 × 75mm
Weight: 50g
Battery Capacity: 1250mAh
Output Mode: Watt
Output wattage: 1W-40W
Standby Current: <140uA
Input Voltage: 3.3V-4.2V
Output Voltage: 0.5V-4.0V
Charging Voltage: 5V
Charging Current: Max 1.2A
Charging Port: Micro USB
Overcharge Voltage: 4.3V
Over-discharge Voltage: 2.4V
Overcharge Current: 2.0A
E-liquid Capacity: 3.2ml
Filling: Side filling
Coils: RPM mesh 0.4ohm coil, RPM DC 0.8ohm MTL coil
Resistance Range: 0.3ohm-2.0ohm
If you enjoyed the previous version, and looking for something smaller and slimmer, then you will want to check out the Smok RPM Lite pod mod kit, which maintains the traditional intuitive button layout and a slew of safeties and protections, is an ideal vape for beginners or advanced users.
Other recommendations:
wotofo cog mtl rta
puff bar disposable pod device price